Welcome to Tuva & Täppa 2022
Sunday 31 July at 11–17
Tuva & Täppa is a garden tour in the countryside between Stockholm, Uppsala, Västerås, Sala and Enköping. This year's Tuva & Täppa involves 14 participants - nurseries, growers and private gardens.
At nurseries and growers, you get both inspiration and the opportunity to buy plants to take home. Unlike the big chains, you shop here directly from the gardeners, and much is grown directly at the nursery, not imported. You also get good advice on the purchase - take the opportunity to ask about the plants you buy and they will get a better start in the soil when you get home.
Private gardens are the pride of enthusiasts - gardens that are like works of art that reflect the visions and personalities of their owners. Here, too, the people behind the work are on site and can tell about their creations. You take the best ideas home with you!
---
That's how it works
See below which participants are in this year's Tuva & Täppa.
Take a look at what they have to offer.
Choose which places you would like to visit.
Enter into the map and see in what order suits you best to visit them.
All places are open between 11-17.
---
Map
View map with participants using Google maps.
Overview map with all participants in pdf format that you can print out. (1 page)
You can also use the Fjärdhundraland map 2022 to find your way. It can be found at most of the participants, in cafés and farm shops and at the Enköping tourist office. (NOTE Version Fjärdhundraland map 2021 has a different numbering)
The colored numbering of Map 2022 is indicated for each participant in the participant information,
Participant "Tallmyra Airbnb" is not shown on Fjärdhundraland's Map 2022, in this case use the search in Google maps.
---
Information about the participants (in alphabetical order)
Participant information in printable pdf format. (4 pages)
Please note that updates of information may be made after you have made your printout. Last update 2022-07-25 at 14:00 pm
---
Address: Vallby by 8, Enköping
A romantic Swedish cottage garden with hundreds of different roses, clematis and peonies. There are also many beds with old-fashioned granny ferns. The garden is about 6000 square meters and is divided into several different garden rooms that are separated by portals with creepers and hedges. There is also a large kitchen garden with a greenhouse, a cutting garden and an herb garden.
Serving: Fika at a cost of 50 kr.
Entrance fee: 100 kronor.
---
Address: Hagelstena Kronhem 134, Knivsta
An artist's home - Studio, gallery, garden & shop Garden located at the edge of the forest with fields, west wind and views. A mountain, a meadow and various garden rooms. Greenhouse and orangery with a piazza. Crops for use, pleasure and enjoyment.
Serving: Fika 50 SEK
Sales: Your own art, trays & cushions + personal hand-picked items. Home-grown plants subject to availability.
Entrance fee: 100 SEK. The fee is deducted when purchasing art.
Toilet available
---
Address: Ekolsunds slottsallé 1-2, Ekolsund
Kitchen garden adjacent to the castle park, and arboretum with the possibility of a guided tour.
Guided toursStart times at 10:00 and 14:00. Tour of Ekolsund's arboretum which lasts about 2 hours and costs 200.- per person. Ekolsund is today Sweden's largest privately owned arboretum and has a history dating back to the early 1600s.
Serving: Possibility to buy coffee at the castle, as well as food service and coffee in the Wärdshuset down by the parking lots.
Entrance fee: No charge except for the guided tour.
Toilet available
---
Address: Biskopskulla-Rönna 1, Örsundsbro
I am building up a fruit grove in the old pigsty since last summer when I planted 14 fruit trees and some berry bushes there. Now I have planted more trees and bushes and the first peach tree is bearing fruit. I take ideas from the philosophy of the forest garden, with thoughts of multi-layered edible perennials and a high level of biodiversity to create as self-sustaining a system as possible. I would like to discuss how to implement this.
Serving: Coffee, drinks and dishes including our own handmade grilled sausages.
Sale: The farm shop is open and offers cuts from KRAV-certified outdoor pigs, air-dried products and handmade sausages without nitrite or other unnecessary additives.
Entrance fee: No fee
Toilet available
---
Address: Broad Hamby 3, Enköping
Hambytanten's square garden.
Serving: Coffee and grilled sausages.
Sale: Garden-related carpentry
Entrance fee: No fee
Toilet available
---
Address: Simtuna Karleby 8, Fjärdhundra
I have a Gallery where there are exhibitions and a café... My garden is constantly changing, new ideas are born, plants are moved, to be seen or to thrive better. I work with different rooms where there are sculptures that I have created over the years. There are many guardians in my garden, but they are nice ones. I am interested in different plants, herbs and plant magic A pond with fish is a must for a good environment for plants and insects, even bees have their home here.
Guided tours: Yes
Serving: Homemade bread is available in all varieties, including gluten and lactose-free as well as the more common ones.
Entrance fee: 100 kronor.
Toilet available
---
Address: Härnevi Rotbrunna 12, Enköping 1 km south of Harnevi Church
The garden is divided into different rooms separated by hornbeam hedges. Color and form play the main role here. In the garden in front of the house, white, silver and pale yellow tones coexist; outside the porch, dark burgundy tones are combined with pink. In the lower parts of the garden, perennials and roses merge into more blue tones. In one of the rooms you will find two large water mirrors, in the center are ladies in ceramics from Lisa's own ceramics workshop. In the garden there is a large wooden greenhouse and a kitchen garden surrounded by an old stone ruin. There is also a shade grove, 30 or so roses, peonies and magnolia.
Guided tours: I guide in the garden starting at 11.30, 12.30, 13.30, 14.30, 15.30 and 16.30. I will tell you about how the garden was developed and laid out. I share my best tips on both care and design.
Entrance fee: 100 kronor.
Toilet available
---
Address: Frösthult-mälby 3, Fjärdhundra
Free-range vegetables, cut flowers and bees. In addition, an exhibition of John Alinder's paintings
Guided tours: Demonstration of vegetable growing and honey harvesting.
Sales;: Farm shop open
Entrance fee: No fee
---
Address: Härnevi Rotbrunna 11, 745 96 Enköping 1 km south of Harnevi Church
We have a cozy garden with lots of roses, perennials and nice trees. There is a pond with goldfish and chickens for the little ones to watch. At the back is our small greenhouse built from old windows and the floor is made of old bricks. There you can sit and have a coffee or any other place in the garden. You can also find shade under our big willow tree or sit on our terrace.
Guided tours: Every full hour
Serving:. Coffee and home-baked goods are available for purchase
Entrance fee: 100 kronor.
Toilet available
---
Address: Fittja Hässle 13, 749 62 Örsundsbro
Organic and environmentally friendly! Historical PELARGONIA FARM, tulip, potato and fruit cultivation and more. 25% discount on our PELARGON TRIAL when booking during Tuva and Täppa!
Coffee service: PELARGONKAKA with chocolate among other flavors and with hot or cold drink. Self-service & self-serve with Swish payment 40 SEK. Drinks & ice cream are available in the freezer.
Sale: Sale of OLD-DAY SWEDISH PELARGONIES with several other varieties of geraniums, PELARGON BOOK, glazed Border pots, self-mixed soil, handmade wooden labels, handmade metal garden accessories and many other gardening items and plants.
Entrance fee: 50 kronor
Toilet available
---
Address: Kulla 5. 749 62 Örsundsbro. Can be clearly seen from the paved road at Kulla Church, 2 km north of Hallonparken or "Write" `Solkulla Matskog` in Goggle Maps and you will be right.
In 2019, the first tree was planted in what will grow into a food forest. Now the establishment of undergrowth is in full swing. In the guided tour, you get inspiration for how a forest garden on a villa plot can take shape and how you can help yourself, the diversity and get your garden to have a positive climate impact. Free roaming is also possible,
Guided tours: Every full hour starting at 10:00. Fee 50 SEK for the guided tour.
Serving: Grab a bite at the Grorot food truck or a gofika outside or inside.
Entrance fee: No entrance fee
Toilet available
---
Address: Österunda-Kälsta 7, 744 96 Järlåsa
Organic vegetable growing, fruit and nut growing, ornamental gardens, forest gardens, natural pastures and no-till forestry.
Guided tours: Tour of the farms at 12 and 14. Tour of the natural pastures and cows, at 13
Serving: We have fika during the day. Farm soda on carbonated rhubarb juice with mint.
Sale: We sell seasonal vegetables (tomato, cucumber, chili, beans, sugar peas and more), chili sauce, peonies and our books.
Entrance fee: No fee
Toilet available
---
Tallmyra airbnb
Address: Tillinge Tallmyra 6, Enköping
Welcome to an evolving garden! It is a mix of old fruit trees, new ideas, ongoing projects and different rooms. We aim for a lush garden that invites both people and pollinators and where the lawnmower doesn't have much to do anymore.
Guided tours: Buy them during the day according to your wishes and needs.
Entrance fee: No fee
Toilet available
---
Address: Hjälsta, Tuna 37, 749 62 Örsundsbro
Commercial garden, selling flowers and nursery plants
Address: Hjälsta, Tuna 37, 749 62 Örsundsbro
Entrance fee: No fee
Toilet available
---
Competition
Find the Tuva&Täppa gardens' favorite plant and win a seed bag that will become a special plant for your garden.
This is how it works.
Each garden has put up a sign with the designation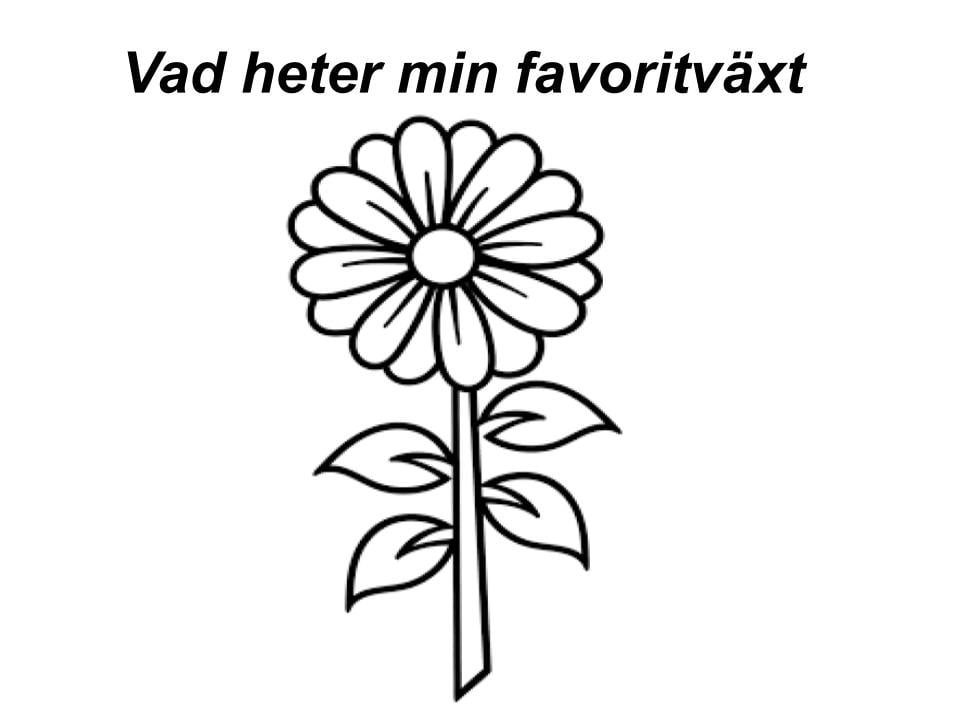 at their favorite plant
You have to figure out the name of the plant.
For every correct answer you get a chance to win. Ten winners will be drawn and if you are lucky you will receive a seed bag in the mail.
Correct answers to "What is the name of my favorite plant?"
| | |
| --- | --- |
| Company / Association name | What is the name of your favorite plant |
| Ateljé Reija Karjalainen | Silvervinda |
| Ekolsunds Slott AB | Althaea officinalis - medicinal sage |
| Franzéns Charkuterier | Mulberry |
| Hard working woman AB | Autumn anemone |
| Lundellska Galleriet | Libbsticka |
| Lövåsa garden | Hydrangea 'Anabelle' |
| Mari Magnusson | Zinnia |
| Mälby Trädgård | Portlak |
| Pia's garden | Dreamland fairy tale |
| SoL Garden & Services | Flower of Happiness' |
| Solkulla Matskog | Vine spinach 'Hablitzia thamnoides'. |
| Sunnansjö Farm | Wisteria |
| Tallmyra Airbnb | Starflake |
| Tuna Trädgård AB | Echinacea |
The winners will be announced on Thursday, August 4.
---
Tip
Experience more of Fjärdhundraland and stay a few extra days. Here you will find nice accommodation.
---