× This page is partially auto-translated.
Now it is 2014 - Read about Midsummer 2014 here!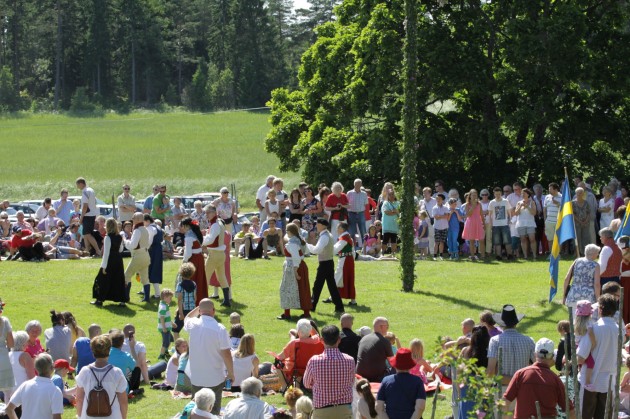 Midsummer party at Härledgården, Torstuna
At 13.30 Midsummer party at Härled. Organizers 2013 Källinge, Ekeby, Strömsta, Nydala. Dance around the bar, entertainment, folk dance with Enköpings Folkdansgille, coffee service, lotteries. Organizer: Torstuna Hembygdsförening, Location: Härledgården.
E-mail: [email protected]
Website
Midsummer in Härkeberga
Welcome to celebrate a cultural and traditional midsummer celebration in Härkeberga at Kaplansgården. The Midsummerbar is erected at 13.00. Enköpings Folkdansgille then starts with folk dance show. Dance and play around the midsummer bar. Music by Trögds spelmanslag. Tip walk, games, display of the museum at Kaplansgården. Coffee service in the lodge, sausages and glasses. For questions, please contact Sophia Lindgren 0707-891585 alt.0171-414131
Organizer: Härkeberga Gille, Location: Härkeberga Kaplansgården
E-mail: [email protected] Tel: 0171-414131
Website: https://www.hembygd.se/harkeberga
Midsummer party in Altuna
Midsummer party in Altuna hembygdsgård at 14:00. Coffee and juice with homemade bread, fish pond, guess the weight of a rabbit etc.
Welcome! Read more.
Midsummer celebration in Frösthult
Traditional Midsummer celebration at 13.30 Frösthults Bygdegård. Bring flowers and leaves to the midsummer bar, friends to enjoy and coffee basket to enjoy in the green grass. We dance around the midsummer bar, go for a walk and buy tickets. Feel free to go to the midsummer celebration with the car. In bad weather, celebrations take place indoors instead.
Organizer: Föreningen Frösthults Bygdegård, Location: Frösthults Bygdegård
E-mail: [email protected] Tel: 070-265 65 59
Website: https://www.frosthult.se/