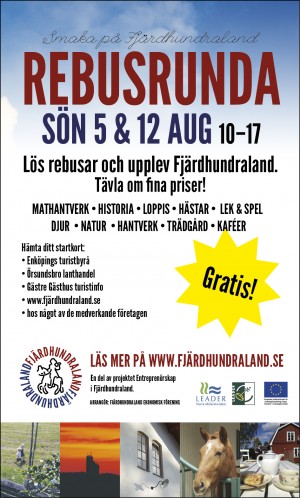 Two Sundays in August, the one 5/8 and 12/8 at 10-17, you are welcome to taste Fjärdhundraland with the help of a simple and fun rebus hunt.
No less than twenty-six visiting companies and attractions participate! They offer a little extra these days, with generous opening hours and special offers.
There is a rebus at every place that participates. All visitors who solve at least 5 rebusar are competing for prices with local connection.
You will be able to pick up your starting card Örsundsbro country store, Enköping Tourist Office, Guest Guesthouse tourist info, here on Fjärdhundraland.se - or with one of the participating companies.
Rebus round is part of The Leader Project Entrepreneurship in Fjärdhundraland.